Page 152 - MedTech 2021
P. 152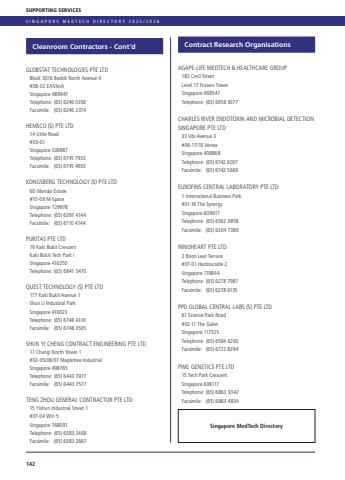 MANUFACTURING, ENGINEERING & COMPONENT SUPPLIERS
  SINGAPORE MEDTECH DIRECTORY 2020/2021
   Plastic Injection Moulding – Cont'd
 SUNNINGDALE TECH LTD – Cont'd
With manufacturing facilities across Singapore, Malaysia
(Johor, Penang), China (Tianjin, Shanghai, Suzhou, Zhongshan, Guangzhou and Chuzhou), Latvia (Riga), Mexico (Guadalajara), India (Chennai), Thailand (Rayong) and Indonesia (Batam). Sunningdale Tech is strategically positioned to target and capture opportunities in diverse business sectors globally.
(See Ad on Inside Front Cover)
TNC OPTICS & TECHNOLOGIES PTE LTD
Block 3015A Ubi Road 1
#01-10/11 & #04-10 Kampong Ubi Industrial Estate Singapore 408705
Tel: (65) 6744 6912 Fax: (65) 6744 6994
UNIPLAS PTE LTD
16 Shaw Road #02-02
Singapore 367954 Tel: (65) 6295 1111 Fax: (65) 6297 0000
UNIVAC COMPUTER SUPPLIES PTE LTD 227D Compassvale Drive
#16-244
Singapore 544227
Tel: (65) 6665 2828
UNIVAC PRECISION ENGINEERING PTE LTD 211 Woodlands Avenue 9
#01-86 Woodlands Spectrum II
Singapore 738960
Tel: (65) 6854 3333 Fax: (65) 6854 3388
YEAKIN PLASTIC INDUSTRY PTE LTD
1 Woodlands Walk
Woodlands East Industrial Estate Singapore 738366
Tel: (65) 6753 7333
Fax: (65) 6759 6355
Email: mail@yeakin.com.sg Website: www.yeakin-plastic.com
Contact:
Mr Tan Pang Kheng, Managing Director
Mr David Lee, Director, Business Development & Marketing
Overseas Facility:
Batam
PT Yeakin Plastic Industry
Lot 20 (Main Batam Office), Jalan Gaharu Batamindo Industrial Park
Mukakuning, Batam Island, 29433, Indonesia Tel: 62-770-611443
Fax: 62-770-611450
China
YPI Plastic Industry (Suzhou) Co Ltd
Huashan Road 158-18
Fengqiao Industrial Park,
Suzhou New District,
Suzhou, China PC 215129
Tel: 86-512-66616420
Fax: 86-512-66611076
Total Staff Strength: 1,100 (Singapore & Batam)
800 (Suzhou) Certifications & Awards:
ISO 9001:2015, ISO 14001:2015, ISO 13485:2016, IATF 16949:2016, SQC, SME 500, Enterprise 50, SME Growth Excellence Recognition, Singapore International 100.
Nature of Business:
Precision mould design and mould making, plastic injection and blow moulding and secondary operations (pad-printing, silk- screen printing, hot-stamping, spray painting, ultrasonic welding, laser printing), sub-assembly operation and turnkey product assembly for the chemical, communication, computer, consumer electronics, electrical appliances, medical, healthcare, defence and automotive industries.
Major Production Equipment:
Design & Toolroom: UG CAD/CAM systems, Moldflow, Makino high-speed machining centres, Sodick wire-cut and EDM machines.
Singapore Moulding Dept: 4 units of injection moulding machines (80 to 280 tons), 1 unit of LSR moulding machine (130 tons).
Batam Moulding Dept: 113 units of injection moulding machines
  144
Singapore MedTech Directory
is published by
Marshall Cavendish Business Information Pte Ltd
and supported by the
SMF Medical Technology Industry Group.